Remember that recipe for Carrot Cake Cheesecake on last week's Friday Favorites post that was completely drool worthy? Well the idea of a cake that combined two of my favorite cakes (carrot cake and cheesecake?!) taunted me throughout the week so I finally mustered up the courage, bought the ingredients, and made it on Easter Sunday for Jesse and myself. Apparently the secret recipe comes from The Cheesecake Factory and once it was complete I definitely thought my little masterpiece was yummy enough to be featured in the fanciest of restaurants. Want in on the secret? I'll spill the beans.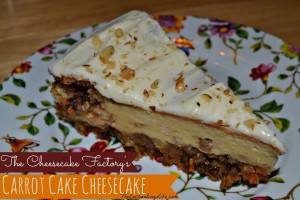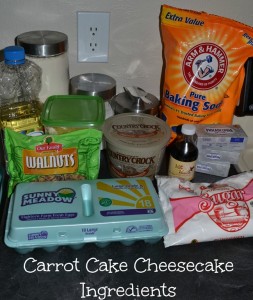 Ingredients:
Cheesecake
16 oz cream cheese ( at room temp)
3/4 cup sugar
2 1/2 tsp vanilla extract
1 Tbsp flour
3 eggs
Carrot Cake
3/4 cup vegetable oil
1 cup granulated sugar
2 eggs
1 1/2 tsp vanilla extract
1 cup flour
1 tsp baking soda
1 1/2 tsp cinnamon
1 (8 1/2 oz) can crushed pineapple, well drained with juice reserved
1 cup grated carrots
1/2 cup flaked coconut
1/2 cup chopped walnuts (more to garnish, optional)
Pineapple Cream Cheese Frosting
2 oz cream cheese, softened
1 Tbsp butter, softened
1 3/4 cups powdered sugar
1/2 tsp vanilla
1 Tbsp pineapple juice

Directions:
Preheat oven to 350˚F and grease a 9 or 9.5 inch springform pan. (Note: if you don't have a springform pan you can also line a regular cake pan with wax paper)
Cheesecake:
In the bowl of an electric mixer, beat together the cream cheese, sugar, and vanilla until smooth. Add the flour, eggs and vanilla extract and mix until light and fluffy. Set aside.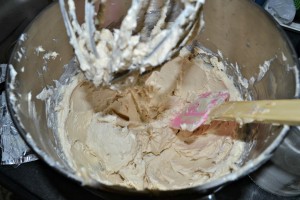 Carrot Cake:
In a large mixing bowl, stir together the oil, sugar, eggs, and vanilla. In another bowl combine the flour, baking soda, and cinnamon. Combine the dry ingredients with the oil and egg mixture. Stir in drained pineapple, carrots, coconut and walnuts.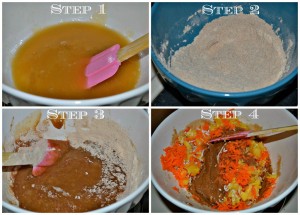 Spread carrot cake batter over bottom of prepared springform pan then add the cream cheese batter over the top and spread evenly with a knife. Do not marble with a knife. Bake for 50 to 65 minutes or until cake is set and cooked through (note: it's done when you poke with toothpick and it comes out clean, mine took 60 mins). Cool to room temperature, then refrigerate. When cake is cold, prepare Pineapple Cream Cheese Frosting.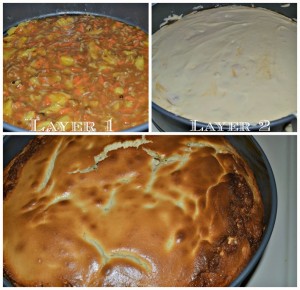 Pineapple Cream Cheese Frosting:
In the bowl of an electric mixer, combine cream cheese, butter, confectioners' sugar, vanilla extract and reserved pineapple juice. Beat until smooth and of spreading consistency. Frost top of cheesecake. Garnish with additional finely chopped walnuts if desired. Refrigerate 3 to 4 hours before serving. Serves 12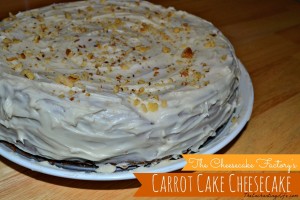 My favorite part? The frosting. It's such a simple recipe but creates such a perfectly buttery and creamy frosting with just a hint of tropical pineapple. It's definitely one I will reuse with other cakes too that need a little oomph. Overall I would say this is more of a cheesecake than a carrot cake because the dense carrot cake sinks to the bottom and almost acts like a moist crust to the cheesecake. If you are wanting a true carrot cake I would try another recipe but definitely use this frosting recipe.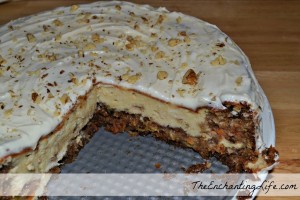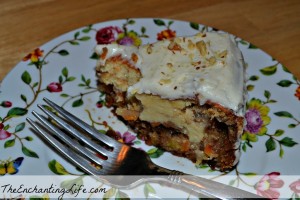 You can print the recipe for The Cheesecake Factory's Carrot Cake Cheesecake here. Recipe adapted slightly from Caramel Potatoes.
If you give the recipe a try, let me know what you think!
Bon appetit,