Have you guys been to Target lately? Of course you have.. that's a silly question. What I mean to say is, have you been through Target's jewelry section lately? I kind of gave up on Target's jewelry ages ago as I saw it going more into the cheesy fake diamonds and juvenile figurine pendants. Recently I walked by the section and this bright colored statement necklace caught my eye (#1 shown below). I perused through the rest of the jewelry section and was surprised at all the great finds I found – score 1 for Target!
If you hurry and buy this week (ending on September 27th), they have buy 1 get one 1/2 off their jewelry, clothes, and other accessories! I purchased #5 (which is much more attractive in person – the picture doesn't do it justice) and a rose gold watch. I handpicked some of my favorite items I saw and the best part? They're all under $30! Plus with the BOGO 50% off you can justify buying them all. Hooray!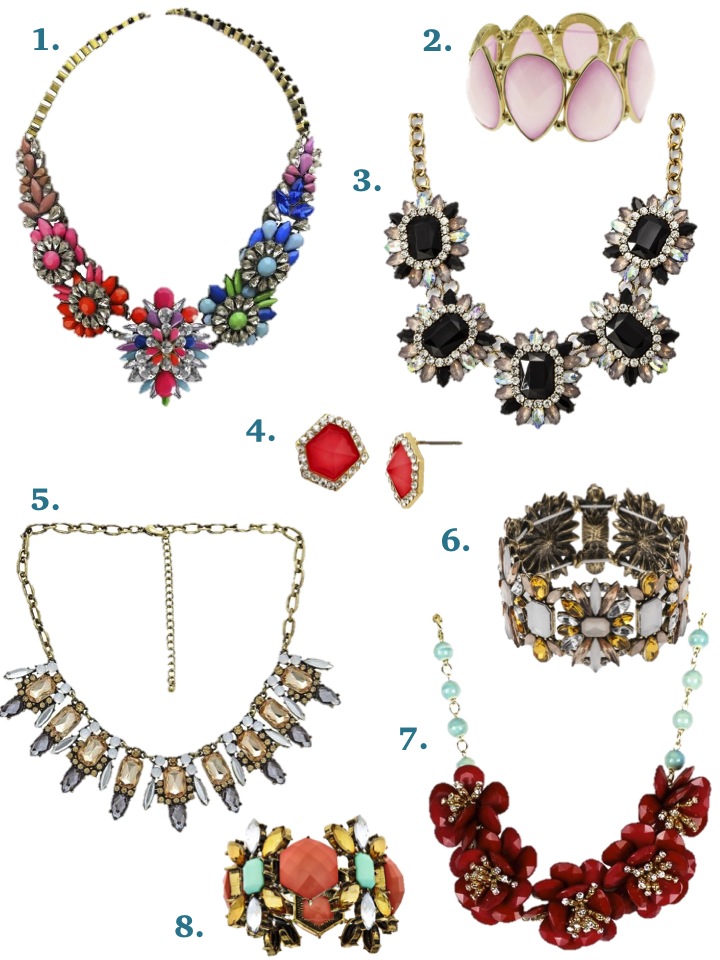 1. Multicolor Floral: $20 //2. Pink Teardrop Bracelet: $13 // 3. Black Cluster Necklace: $30 // 4. Coral Button Earrings: $8 // 5. Gold/Gray Stone Necklace: $17 // 6. Neutral Stone Bracelet: $20 // 7. Ruby Floral Necklace: $30 // 8. Multicolor Stone Bracelet: $15
What do you think of Target's new statement jewelry? I am contemplating getting #7 too. It's an exact replica of Anthropologie's $68 Camellia bib. It was one of my favorite necklaces at Anthro but sold out right away!
XO,