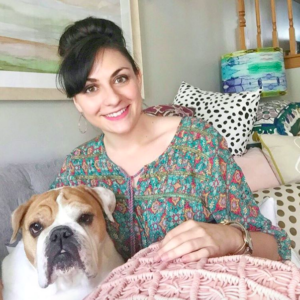 Natalie Massie
Hi there, I'm Natalie Massie! A midwestern Interior Designer with a passion for Jesus and helping others create a home they love!
…
I collect vintage perfume bottles, Anthropologie cookbooks, and throw pillows (I say collect, my husband says hoard – potatoe potato). I'm an introvert by nature, which means I can sit for hours creating with laser beam focus but it also means if you invite me to a party, I may never socialize with anyone but I will become best friends with your dog by the end of the night.
…
My perfect day would consist of wondering through an outdoor flea market (preferably in Paris) looking for unique vintage treasures. A typical day is more like stretchy pants and a plate of chicken alfredo while watching Parks & Rec reruns on Netflix (not quite Paris but still pretty dang good)
…
I married up with my husband, he's my rock and motivator. He's a big tough dude with the mushiest heart.
…
So if you've read this far in my intro then that probably means we're destined to be bff's. I'd love to learn a little more about you! Comment below with a little intro or fun fact about you.. or your dog (because you know I want him to be in the BFF gang too)! Because life  is better when we do it connected in community!
Guest Contributor for 
Warby Parker's Beacon Collection
Guest Contributor for
Modcloth's Uniquely You Campaign
Featured Room on
Cutting Edge Stencils
Product Reviewer for 
Pavillon Ledoyen Paris