I have been on the hunt for a good dog bed for the last couple of weeks. I wanted something that would be big enough to fit both husky ladies, have a removable/washable cover, and be comfortable. Is that too much to ask? Well apparently it is because every bed we found that met the criteria was $60 or more (and I'm talking Walmart's prices here). While standing in the middle of Walmart's aisle complaining how I'm not paying $50 for foam and some cheap fabric, it hit me eureka! I can do it myself, and so can you. Here is an easy tutorial to creating your own DIY Dog Bed!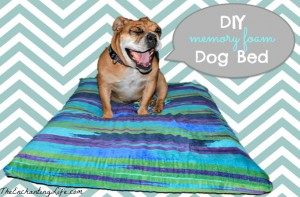 DIY Dog Bed Supplies:
Memory Foam Mattress Pad ($12-$18)

Beach Towel ($8-$12)

Strip of Velcro ($0.85)
Pictured below is the full-size mattress pad ($12) which would work great for a medium sized bed but I wanted it bigger so I exchanged it for the queen size ($18) and opted for the oversized beach towel ($12).


Easy Peasy Steps:
Fold your towel in half inside-out then sew up the 2 sides.
Fold the queen mattress pad twice (so there are 4 layers of memory foam) and put it inside the case
Secure the flap down by folding over the excess flap and attaching your velcro.
You can opt to sew or glue your velcro on or buy the type that already has the adhesive attached. I decided to sew mine on so with the foam still in, I pinned the velcro down exactly where it should go, took out the foam then sewed a quick line down each strip.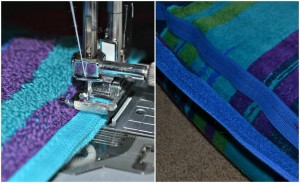 Before I let the dogs try out their new bed, I had to try it out. Seriously? This thing is comfier than my own bed but I guess that's what 3 layers of memory foam will give you! Overall the dog bed cost me $30 and can be completed while watching one episode of New Girl, plus I got to pick out which cover I wanted, it has a washable cover, and the dogs LOVE it.  I literally had to drag Ruby off her bed to make her go outside yesterday when she's usually the one that has to drag me off the couch to take her outside.