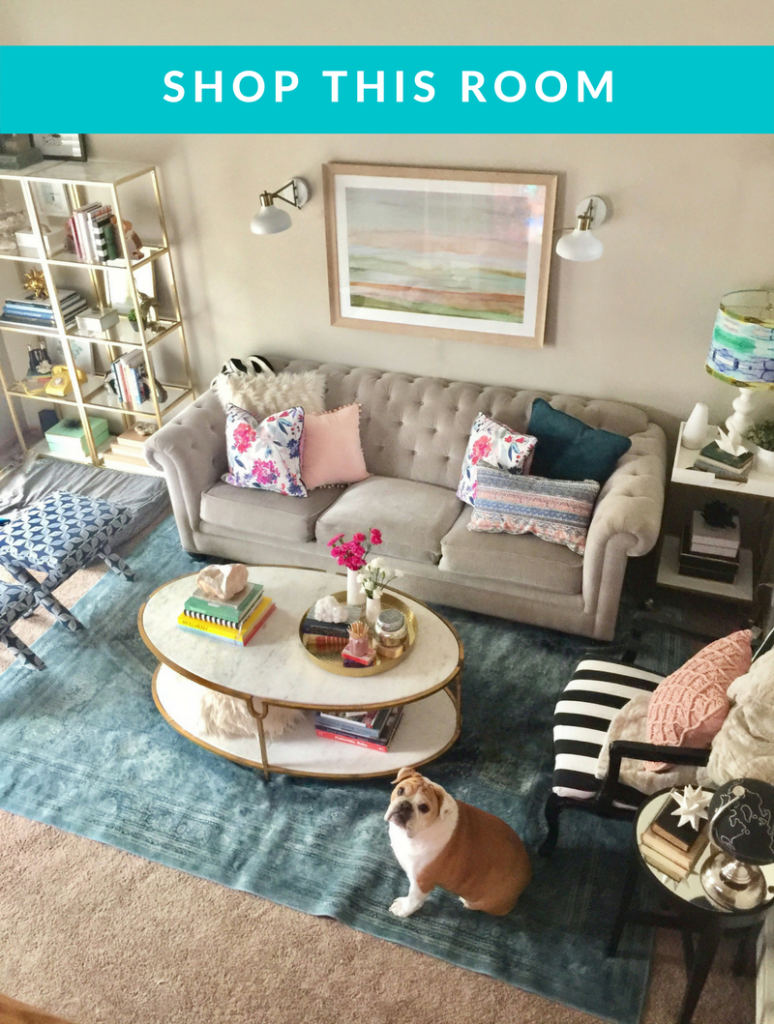 Hi loves! Today I thought I'd share something fun and do a little living room tour complete with the linked sources so you can shop the room! If you follow along on Instagram you know that this room changes often based on the season (or my mood) – I often change out the rug, art, and pillows to give it a totally different feel so I thought before I change it again, I better get this post put together! A few of the pieces are no longer available but I've done my best to find you something similar and all from reputable sources that I've ordered from before. Enjoy!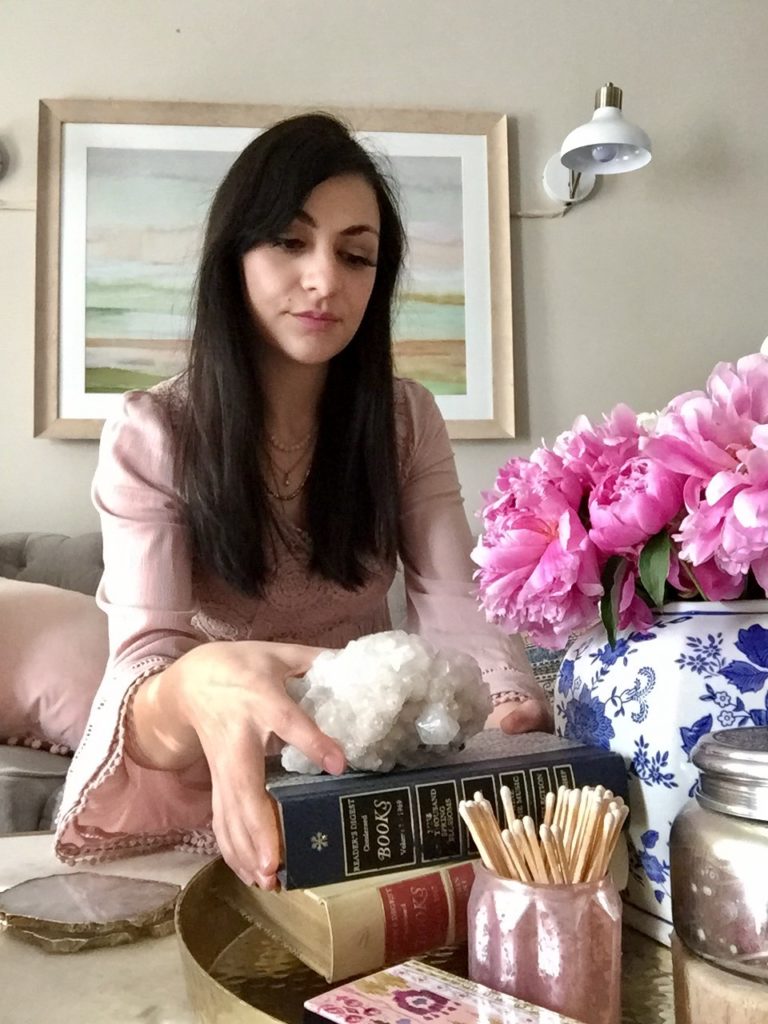 Friends I'm not kidding when I say I rearrange this room constantly. It's my favorite activity to do when I need a little "me time" to think. Here I am arranging some of my favorite pieces – my Quartz Cluster that sits atop a stack of Vintage Patterned Books. Next to that are my Geode Coasters  that were a gift from my sister – she knows I've got an obsession with geodes! My Chinoiserie Jar was a Home Goods find (similar style here) and looks so pretty filled with the pink peonies from my garden!
This Hammered Gold Tray has been one of my favorite purchases and I receive so many compliments on it (and for less than $30 it's a no brainer). It's nice that it keeps all my decor contained and I can easily move it for game night! Every house needs a signature scent and my favorite has always been Anthro's Capri Blue Mercury Glass Candle. Yum! I love to pair it with some Oversized Matches in a cute pink Votive holder. FYI these three items make an awesome gift for that hard-to-shop-for person!
Let's talk about my #1 obsession – PILLOWS! My favorite way to style and change up a room is with throw pillows. Usually I just stumble across a pillow I love at Home Goods but here are some links to similar pillows: Floral Pillows (same ones – only $15 and almost sold out!) //  Blue Teal Velvet Pillows // Blush Pink Pillows, //White Fur Pillow // Pink and Blue Lumbar Pillow  here or here.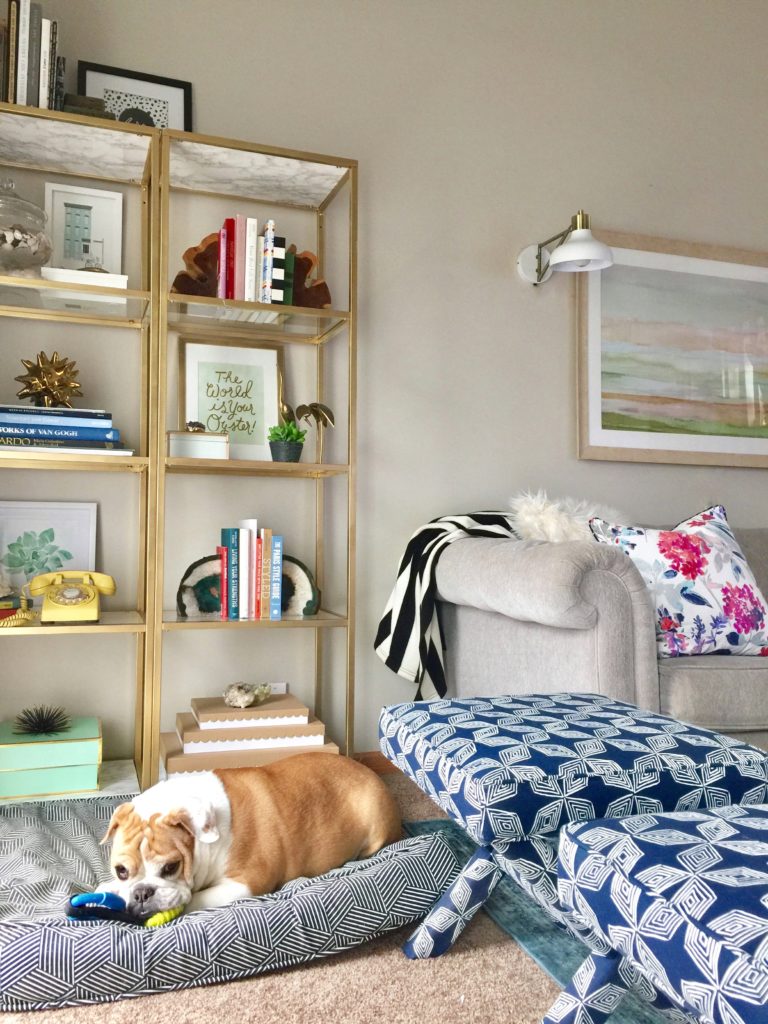 My Gold Shelves are actually 2 separate towers spray painted gold and I added stick on marble paper to the base and top to make it look a little more high-end. They are actually a knock-off of a designer shelf that retails for $2k(!!!) I love these shelves because they allow me to do more of my favorite thing – ACCESSORIZE! I leaned a few cute prints to give me some height. The Succulent Print is from Hobby Lobby and is only $7.50 when you can get it on the 1/2 off week and "The World is Your Oyster" is no longer available but there's a similar option here.
A few of my favorite (and most asked about) accessories are my 1970's yellow Vintage Rotary Phone I got at Junk Stock (outdoor vintage fair) but I found the same model for one lucky reader on Ebay! Also my cozy Striped Throw adds some contrast to my couch and mimics the black/white stripes in my armchair across the room. Last, these Gold Urchins and Rosie's Dog Bed get asked about frequently and although the X-Ottomans are sold out, I found a similar option here.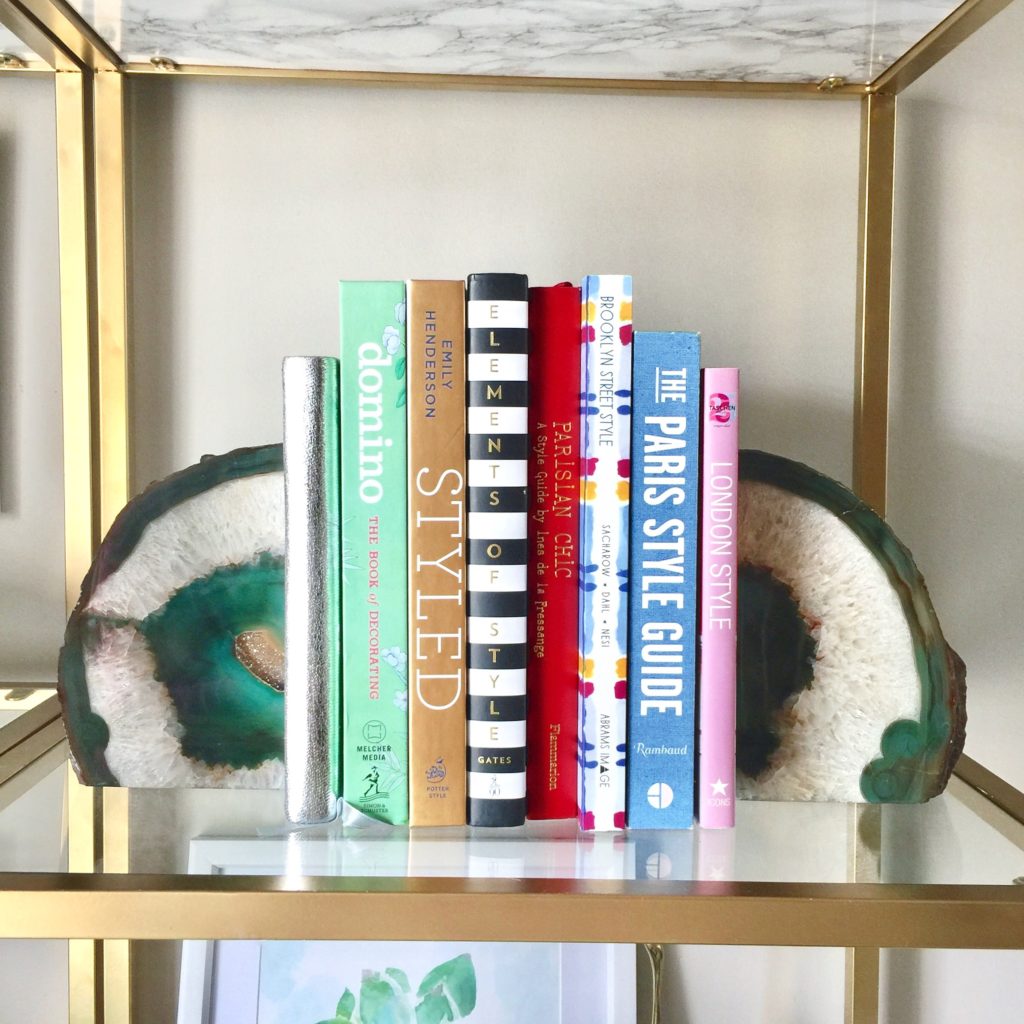 No bookshelf would be complete without some actual books. Mine are mostly fashion and interior design related books as my sit-down and read books are all an ebook or kindle version now. You'll need some cute bookends to prop those bad boys up and my Agate Bookends (budget friendly option here) are a total statement piece. I also love my unique Wood Bookends shown in the photo up above.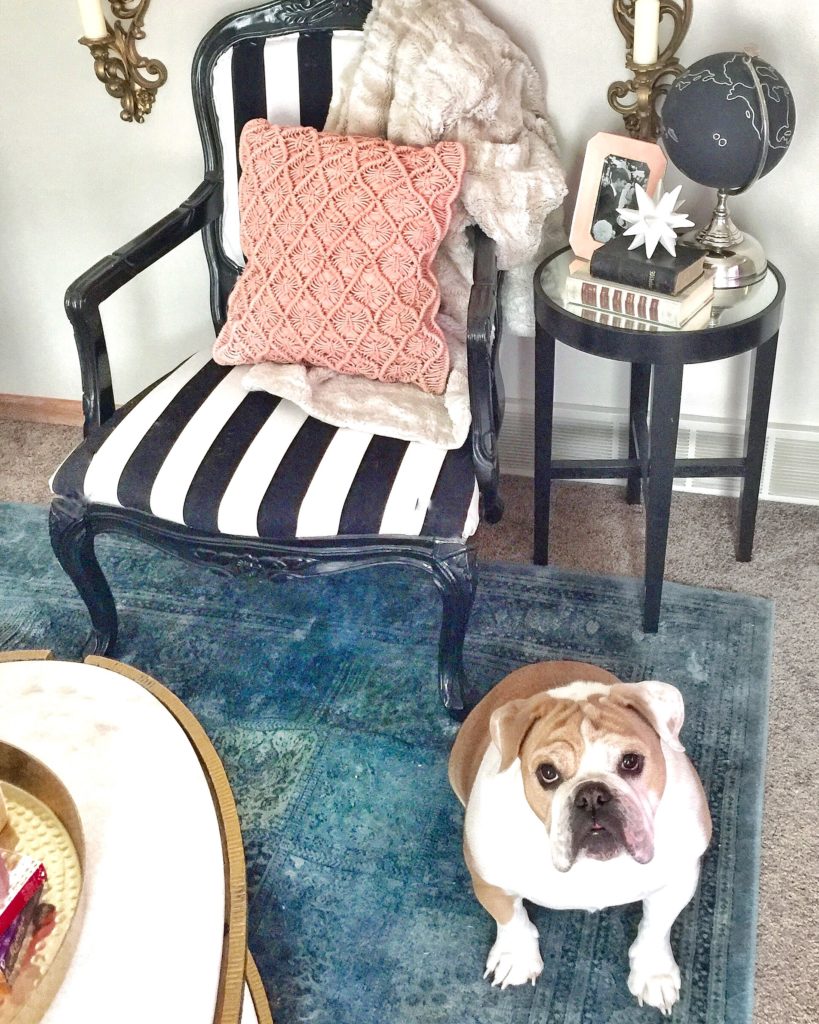 Rosie loves my striped chair but unfortunately it's a piece I bought at a garage sale and reupholstered but don't worry, I found a similar option here and it will save you from all the staple injuries you'd get with reupholstering (ouch)! My Pink Macrame Pillow is a Target find that's also available in cream which adds some great texture to the room. Last, here's some similar option for the Black Side Table and Black Globe.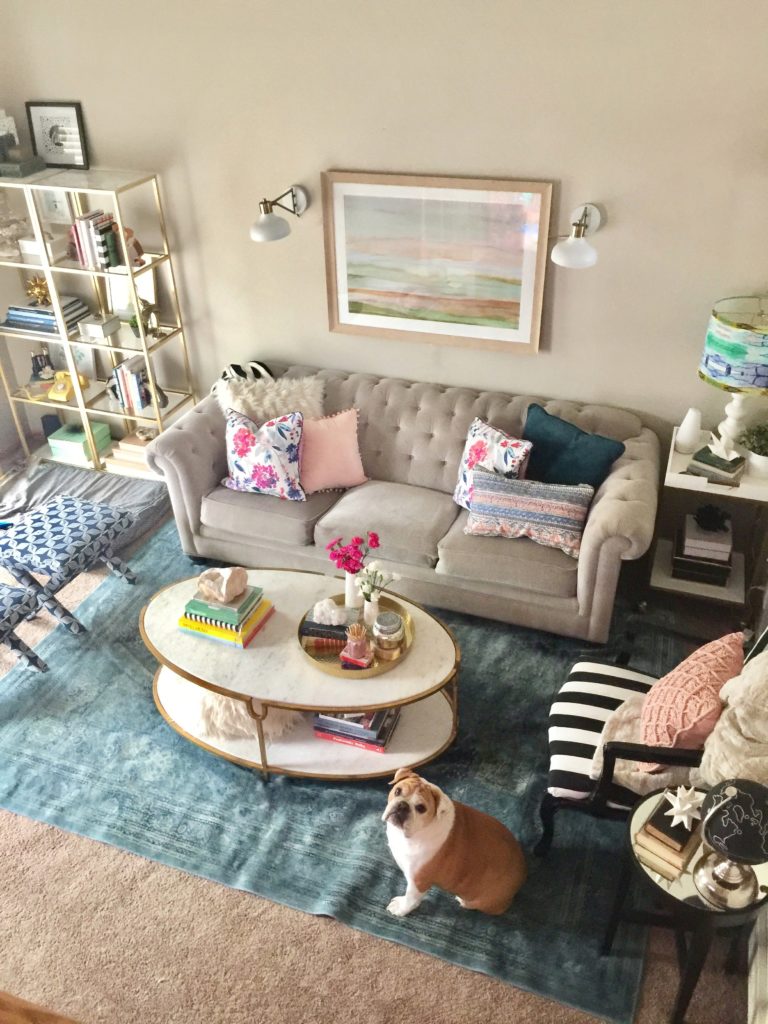 My tufted sofa is from a company called Jonathan Louis but they are only sold in select furniture stores so I found a similar style here and a budget friendly option here. The Marble Coffee Table is from one of my favorite design sources but because of the solid marble and brass, it's an investment piece – here's a similar style that's budget friendly.  My new Blue Rug is an odd shape (7×9) but they have a standard 8×10 size available that would work for most living or dining room. I love how it adds a little P.O.C (pop of color!) to the room.
Last the White Sconces (plug in) flank my watercolor art which was a Home Goods score but there some similar options here // here // or here. I also found my Bar Cart Side Table at Target on super-dooper clearance but I found some similar styles  here // here //or here. They make great duel purpose pieces if you use as both a side table and a bar cart!
I hope you enjoyed my living room tour and that the links come in handy! If there are any items I didn't mention that you would like to know more on, just let me know.
XO,
Natalie