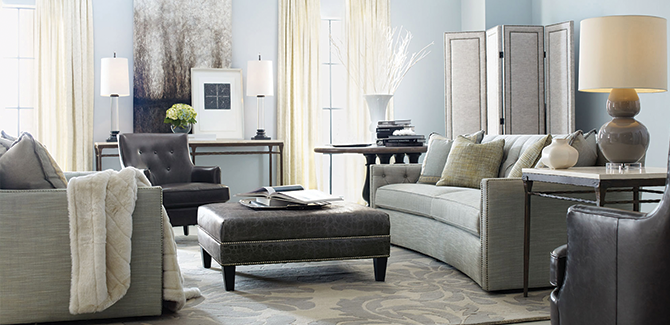 Are you confused on what your design style is? Do you feel like you are drawn to the clean lines of contemporary but still like the elegance of the traditional style? Maybe you feel the contemporary style is too bold but the traditional style can feel too stuffy. Well then you just may be transitional.
Transitional bridges the gap between those that relate to both contemporary and traditional style.
The design elements that are often seen in transitional spaces are:
(ex.  Huntington House sofa)
Furniture: Combination of straight and curved lines, swooped arms, tapered legs, mix of textures, large scale furniture that feels full but not overwhelming, and a blend of masculine and feminine pieces.
Textiles: Keep it light and neutral with creams, beiges, tans, and pale grays. Mix of different textures such as a smooth cotton mixed with a nubby chenille.
Woods: All wood tones can work in the transitional style but dark wood tones add some richness and contrast to the light fabrics.
Since the transitional style is a marriage between contemporary and traditional, oftentimes a person will lean more contemporary or more traditional which can be reflected in the space by using more prominent features that are prevalent in that design style.
To read the rest of this article and see some of my design work head over to NFM's blog..