Happy Monday friends! Today I have a quick and easy DIY recipe for peppermint sugar body scrub. If you remember from my Baby Shower post, these were the party favors we sent home with guests.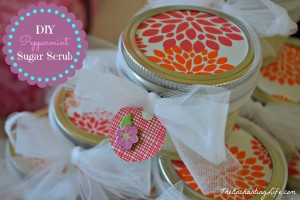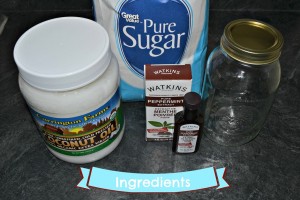 For the sugar scrub you will need:
Organic Unrefined Coconut Oil
White Sugar
Essential Oil (I chose peppermint)
Container (I used jelly jars)
Instructions:
There really isn't a perfect ratio for the scrub, all you really need to do is mix all 3 ingredients together to your liking. I start by mixing 3 tbsp coconut oil with 1 cup sugar which will make the scrub pretty exfoliating. If it's too gritty for your preference, you can add more oil in until you get your desired exfoliating level. Once you're happy with the ratio, add 4 drops of peppermint essential oil per cup of scrub.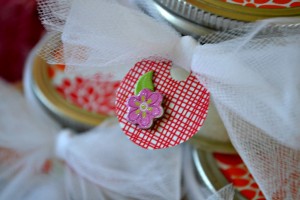 For the party favors, I used jelly jars because they're smaller and have the decorative diamond-cut sides. To decorate, I used the lid of one of the jars to trace circles on a file folder from the Target $1 bin, I then cut the circles out and slipped them under the ring of the lid. There was a lot of scrap folder left over which I cut into little circles for the scrubs' labels. I then punched a hole in the top of the label, threaded it through some white tulle, and tied the tulle into a knot. Easy peasy lemon squeezy!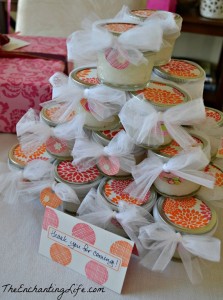 As long as you use organic coconut and essential oils, the scrub is safe to use on your face but just avoid your eye area. My husband and I have been using this for a few months now and we both have noticed that it has cleared up our faces and made them silky smooth! This has been by go-to gifts for thank you gifts, birthdays, mother's day, etc. It's the perfect homemade treat!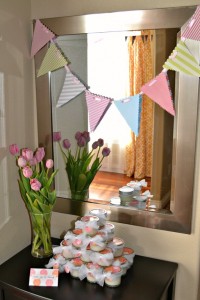 Heads up: coconut oil is a saturated fat so it will harden at room temperature. Usually this isn't a problem if you made your scrub more exfoliating but if the scrub is difficult to get out then I recommend using in the shower so the steam will soften up the oil and make it easier to use. If your home is hot and the oil has melted, you can stick the oil in the fridge to harden it up again. 

Let me know if you give this a try!

XO,
Natalie