So the end of the month is right around the corner and Jesse and I realized we never carved our pumpkins! We actually bought them a couple weeks ago and they've just been sitting in our house waiting for our attention but we've both been so busy that we haven't got around to it. We finally have carved out (see what I did there *wink wink*) some time to work on them and I have been looking at all kinds of inspiration online so I thought I would share a few of my favorites!

Or you could go the easier route and paint your pumpkin (this will help it last longer too):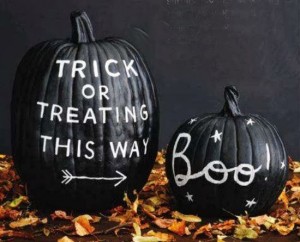 Chalkboard pumpkins
Paint your favorite character (Grumpy Cat!)
What do you think? Any of these ideas inspire you? I love the very first one with the Cinderella carriage but considering our pumpkins are a couple weeks old (and I'm afraid of what's inside), we will probably go ahead and paint our pumpkins. I'll let you know how they turn out!
Have a great weekend,
Nat