I studied Interior Design in school so I have become very familiar with all styles of decor. When I look at decor I have no problem saying
"
I like that, I don't like that
"
but it has always been difficult to describe to others what
my
design style is, "uhh.. eclectic? modernish but vintage? feminine but bold?"After many dazed looks from others I finally figured out what to say,
"
French.
"
It covers all the bases.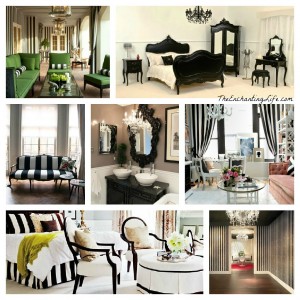 I don't think there is anything I love more than black and white stripes. It is the hot trend right now and I adore it in room decor. It's a bold take on a classic color scheme. Whether it's paired with chandeliers or lanterns, pastels or neons, chunky or petite furniture, it always works perfectly.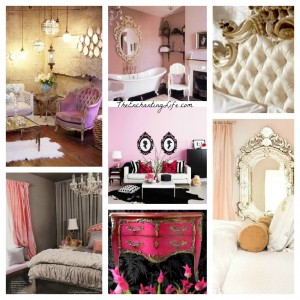 I love french femininity (say that 5 times really fast). What I feel makes basic decor more
"
french feminine
"
are the jeweled chandeliers, tufted upholstery, delicate rococo furniture, and cameos. The textiles always drape really well and are super soft fabrics like silks, furs (faux of course) and velvets. Both gold and silver tones work well when paired with whites, pale pinks, and soft grays. C'est tr
è
s
belle!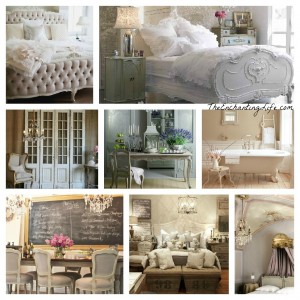 Super shabby fabulous. This style has feminine touches but is paired with rustic woods and distressed white furniture. Want to incorporate this style into your house? Simple. Buy a fluffy white down comforter, pick up some quirky vintage finds at a flea market, and fill a pitcher with a bundle of delicate flowers (pink rosebuds or lavenders are my preference). You can also paint some cheap furniture (try Craigslist) white then use sandpaper to make it look more distressed and vintage. If the budget allows, you can perfect the look by adding a glammy chandelier and a tufted headboard. Rosie approved.
What's your design style? Which of the three French styles do you prefer?
All pictures were found on Pinterest. Their original sources can be found by clicking on the pictures here.