Need a quick and easy (and romantic) recipe for Valentine's Day? Our tradition for Valentine's day is to make cheese fondue together and stay in to avoid the madness of restaurants and reservations! Typically I make my classic "Easy Peasy Cheesy Fondue"  but this year we will be making a new version:
The Melting Pot's (copycat) Cheddar Cheese Fondue Recipe
Ingredients:
12 oz. Light Beer (or white wine)
1/2 tsp Dijon Mustard
1 Garlic Clove (pressed)
1/4 tsp Sriracha (or other hot sauce)
4 cups Sharp Cheddar Cheese (shredded)
2 Tbsp Cornstarch
Instructions:
In medium pot – heat beer, mustard, garlic, and Sriracha on low heat until warm.
Whisk in cheese and cornstarch until melted and smooth (tip – if cheese gets sticky, add a splash of milk to make creamy)
Serve with dippers of choice: french bread, apples, celery, carrots, potatoes, salami, cooked potatoes, broccoli, cauliflower, etc.
Add more spices, hot sauce, beer to give it more kick if you'd like – it's hard to screw up this recipe. Also, there is no fondue pot required! Just keep the fondue on low heat on the stove and add more to your plate as needed or if want to dip straight into the fondue pot traditional style, transfer the fondue to a small crock pot ($15 on Amazon) and keep it on low heat (much more practical than buying a fondue pot).
As for dessert?
I've got you covered. You can make my no-bake 10 minute cheesecake ahead of time or opt for something chocolatey like this foolproof recipe for Chocolate Covered Strawberries or (MY FAVORITE DESSERT EVER) these chocolate molten lava cakes (I DIE!!) These are such a crowd pleaser and not difficult to make. I mean look at that molten chocolate center – perfection!!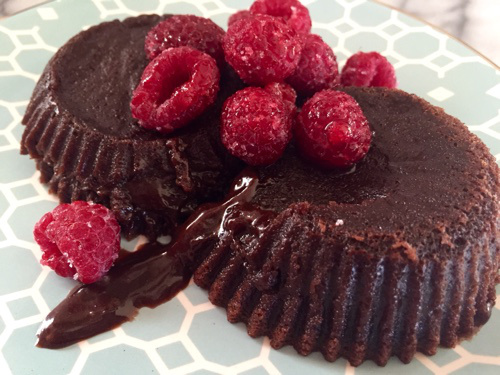 Hope that makes your Valentine's Day plans a little easier. Don't have a beau to share it with? Why not invite your girlfriends over for a cheese and chocolate party and watch a rom-com like Bridesmaids? Who said V-Day is just for couples?
XO,